Could New Tank Car Rules Derail the Bakken Crude Boom?
This article was originally published on RBN Energy by Sandy Fielden
The recent tragic spate of four rail accidents involving crude-by-rail, three of them carrying crude from North Dakota, have increased pressure for regulation of rail tank car standards. The railroad industry- through the Association of American Railroads (AAR) - proposed improved safety standards in 2011 for tank cars carrying hazardous materials including crude oil. These standards have been adopted by US tank car builders and were mandated this week by the Canadian Government for new tank car construction. If the new standards applied to all existing tank cars then at least 75,000 cars manufactured before 2011 would require retrofitting. Today we examine the impact hastily implemented new regulatory requirements might have on Bakken crude oil takeaway.
As we discuss in the newly released Backstage Pass – Crude-by-Rail Drill Down Report, safety is and has always been the top priority for those involved in the transportation of crude oil by rail. The rail industry regularly quotes a safety record of 99.998 percent. Safety is a key aspect of any discussion about crude-by-rail.
Over the past few months however, that excellent safety record has been marred by four tragic, high-profile accidents. The first was on July 6, 2013 when a run-away train exploded in Lac-Mégantic, Quebec, killing 47 people and devastating the town. Then on November 8, 2013, about a dozen cars derailed from a unit train of 90 cars near Aliceville, Alabama, about 45 miles southwest of Tuscaloosa. Three cars exploded. No one was hurt, but it was a big explosion and fire. At the end of the year on December 30, 2013, a 106 car crude unit train in southeastern North Dakota was hit by derailing cars from an adjacent train hauling grain resulting in an 18 car derailment of the crude train with several cars exploding in a huge fireball. In the latest incident on January 7, 2014 a Canadian National (CN) train carrying propane and crude oil jumped the tracks in Plaster Rock, New Brunswick. At least fifteen cars and a locomotive were derailed and caught fire. The CN train was carrying crude oil from Western Canada.
We have extensively covered the growth of crude by rail in RBN Energy blogs (see for example Year of the Tank Car). Our analysis has included descriptions of the tank car business (see The Tank Cars are Coming) and the maintenance of tank cars (see Bad Orders in the Crude-by-Rail Market). We have also provided insight into the rail logistics business from our friends at PLG Logistics (see You've Got Another Thing Coming).
The U.S. Department of Transportation's (DOT) Pipeline and Hazardous Materials Safety Administration (PHMSA) establishes safety regulations relating to crude-by-rail transportation. In Canada, Transport Canada performs a similar function. In addition, the Association of American Railroads (AAR) Tank Car Committee (TCC) is a key participant in the setting of industry standards regarding the design and construction of tank cars. Members of the TCC include rail car owners, manufacturers, rail customers and the Committee also has active participation from the DOT, Transport Canada and the National Transportation Safety Board (NTSB).
The rail industry had already moved toward more stringent requirements for rail tank car design before the recent accidents. In 2011, the TCC asked PHMSA to adopt upgraded design requirements for new tank cars carrying hazardous materials such as crude oil (PHMSA Petition – 1577). These design upgrades include thicker, more puncture resistant tanks, thicker walls at both ends of the tanks, and more protection for the fittings and valves on top of the rail cars. Although PHMSA has not mandated these new requirements, the TCC adopted the new designs for new rail tank cars in 2011. Thus far, more than 14,000 cars have been ordered to this more stringent standard. On January 11, 2014 the Canadian Government published rules that will go into effect in July, setting a new Canadian rail tank car standard called TP14877, based on the US PHMSA Petition – P1577. The new requirements apply to the majority of rail tank cars used to transport light sweet crude - built to a design known as DOT 111A. Rail tank cars constructed with insulation and heated coils and designed to carry heavy crude are already compliant with the new standards.
The requirements only apply to newly constructed railcars – meaning that as many as 75,000 existing rail tank cars, built before 2011 will not comply with the new safety standard until they are retrofitted. The cost of retrofitting existing rail tank cars varies by design but has been estimated by tank car manufacturer National Steel Car at between $20,000 and $40,000 each (November 2013 Industry Presentation). Regardless of cost, the rail tank car industry lacks available capacity to carry out such retrofitting. The backlog of new orders for rail cars in 3Q 2013 was 61,000 of which 49,000 were tank cars (source: Railway Supply Institute). That backlog is expected to take 4 years to clear, leaving little capacity for retrofitting work. Smaller tank car repair shops also have limited capacity to do retrofitting work.
In the circumstances, we wanted to understand the impact on crude takeaway capacity in North Dakota – where crude-by-rail is most established – if shippers decide to limit themselves to using rail tank cars that meet the new standards. The need to carry out this analysis is prompted by two very real concerns. First it is our understanding that some companies are already taking this precaution – of only using newer tank cars - to reduce their shipping risk. And second, (although there is no indication yet that this might happen) regulators could impose a hard ban on using older rail tank cars that are not retrofitted to meet the new regulations. In either case, the impact in North Dakota if all rail shippers stopped using DOT 111A rail tank cars built before 2011 would be to throw Bakken crude oil transportation into chaos.
That's because we know that at least 500 Mb/d of Bakken crude is leaving North Dakota by rail today (source: Genscape). And the latest data from the North Dakota Pipeline Authority (NDPA - for October 2013) puts that figure much higher – at 69 percent of North Dakota crude production or 650 Mb/d being shipped by rail. In fact as you can see from the chart below, the volume of North Dakota crude being moved by rail (dark green line) has increased rapidly in the past three years from just 65 Mb/d in January 2011 to 650 Mb/d in October 2013.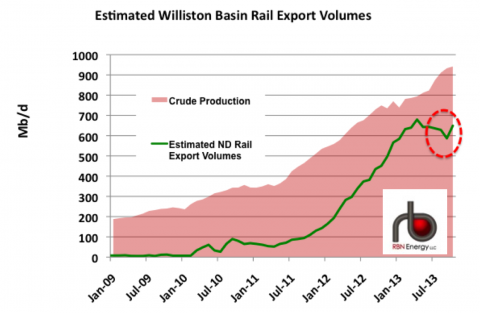 Source: NDPA and RBN Energy (Click to Enlarge)
And as regular RBN blog readers will know, the reason for that increase in rail transport out of North Dakota was that crude production in the State (pink shaded area on the chart) overwhelmed pipeline takeaway capacity in early 2011. The resulting price discounts for Bakken crude together with pipeline congestion in the Midwest led to a major build out of crude rail loading terminals (see From a Famine of Pipeline to a Feast of Rail). Over 600 Mb/d of rail loading capacity was added during 2011 and 2012. Since then North Dakota producers have mostly preferred to use rail capacity to ship their oil to market because crude prices were generally higher at coastal destinations that could only be reached by rail (see Railing Against the Pipelines). Only when price differentials no longer favored rail economics for transport to the Gulf Coast in the third quarter of 2013 did rail volumes dip (red dotted circle on the chart) as shippers shifted their barrels back to the pipeline (see Netback, Netback to Where You Started From).
So North Dakota crude producers today are heavily reliant on rail to get their crude to market. But could they switch back to pipelines if new rail regulations suddenly put most of the rail tank cars out of commission? The chart below shows North Dakota crude production (blue shaded area) together with pipeline takeaway capacity (red line). You can see that pipeline capacity has consistently lagged behind production since 2011. That gap has of course been filled by rail. The latest data for October 2013 indicates pipeline capacity of 515 Mb/d. With production of 941 Mb/d and the local Tesoro refinery at Mandan consuming 68 Mb/d, that leaves (941-68) or 873 Mb/d needing takeaway capacity from North Dakota. If only 515 Mb/d can fit onto existing pipelines that leaves (873-515) or 358 Mb/d with no route to market except for rail. And that situation would continue for more than a year because only 110 Mb/d of new pipeline capacity is expected online in 2014 – at the end of the year.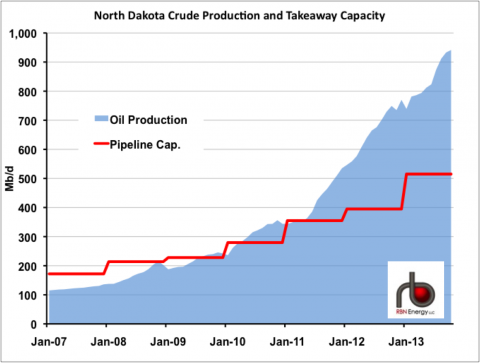 Source: NDPA and RBN Energy (Click to Enlarge)
The only other way that Bakken crude could get to market in the absence of rail capacity would be by road tank truck. What follows is a hypothetical calculation of what it might take to bring 358 Mb/d of crude oil to market by truck – to illustrate how complicated such an operation would be.
A tank truck carries about 210 Bbl of Bakken light sweet crude. To move 358 MBbl of crude for one day would therefore require 358,000/200 or 1,790 trucks. Perhaps the nearest market to truck crude to would be the refineries in Washington State. A quick look at the map tells us that driving time from Trenton, ND to the Tesoro refinery at Anacortes, WA is about 18 hours non-stop. With loading time and rest time the trip might take 3 days outbound and 3 days back meaning 6 days round trip. In order to move 358 Mb/d you would therefore need 6 times as many trucks running in daily convoy meaning 6 * 1790 or 10,740 trucks. That's a lot of trucks (over 10 percent of the 2012 US total fleet of 100,000 tank trucks) and a lot of drivers. Not to mention costs that would amount to several times the equivalent rail haul.
So given that the challenge of getting large quantities of Bakken crude out of North Dakota by truck is highly unlikely, we conclude that, all other things being equal, if rail is removed from the equation, there is no way existing crude production can be transported to market. The result would likely be fairly rapid crude production shut-ins and producers facing heavy price discounts to get their crude onto overflowing pipelines. Lower crude prices and lack of storage capacity would also likely discourage new drilling. In effect an overnight crude-by-rail ban would slam the brakes on the North Dakota oil boom. Of course, this is all theoretical.
Our belief is that it is highly unlikely that regulators go cold turkey on rail shippers by ruling most tank cars out of commission overnight. However concerns about this happening mean that lease rates for rail tank cars meeting the new standards are almost certain to increase and vice versa for old cars. It is also possible that we may see a more significant shift away from crude-by-rail and back to the existing pipelines out of North Dakota. Inevitably crude prices in North Dakota will come under pressure in the face of such transport constraints. In the meantime we hope that the lessons learned from the recent accidents can be rapidly assimilated into improved operational safety to reduce the risk of future recurrence.