Down to Kokomo—Exporting Compressed Natural Gas to the Caribbean
This article was originally published on RBN Energy by Housley Carr.
"Aruba, Jamaica, ooo I wanna take ya. Bermuda, Bahama, come on pretty mama …" While most of us trapped in the icy grip of this winter's Polar Vortex can only dream of cruising from Florida to the Caribbean, "tropical drink melting in your hand," Nova Scotia-based Emera Inc. has a plan to do just that (minus the drink), and on a regular, ferry-like schedule. Emera wants to export compressed natural gas from the Port of Palm Beach to its Grand Bahama electric utility and other Caribbean buyers starting as soon as 2015. The volumes of natural gas involved aren't huge, but the plan is an example of market innovation driven by the US shale revolution. Today we examine Emera's plan to move US gas to "the islands."
Emera is perhaps best-known in the energy industry as the corporate parent of marketer/trader Emera Energy; as the owner of the 90-mile Brunswick Pipeline, which connects the Canaport liquefied natural gas (LNG) facility in Saint John, New Brunswick, to the Maritimes & Northeast Pipeline (MNP); and as part owner (12.9%) of the 870-mile MNP, which in addition to distributing re-gasified LNG from Canaport moves Sable Island and Deep Panuke production gas from offshore Nova Scotia into New England markets (see Deep Panuke Gas). Emera also owns Nova Scotia Power, Bangor Hydro, and power generation and transmission assets. Less well-known is that Emera owns 80.4% of Grand Bahama Power Co. (GBPC), a 20,000-customer electric utility that serves the island of Grand Bahama, the Bahamas. Emera also owns most of Light & Power Holdings Ltd. (LPH). That company owns Barbados Light & Power (BLP) in Barbados, is majority shareholder in Dominica Electricity Services Ltd. (DOMLEC) in the Dominican Republic, and is an investor in St. Lucia Electricity Services Ltd. (LUCELEC) in St. Lucia. Taken together, BLP, DOMLEC and LUCELEC generate and deliver electricity to 227,000 customers in the Caribbean Islands (see Figure 1 for a map of Emera's assets).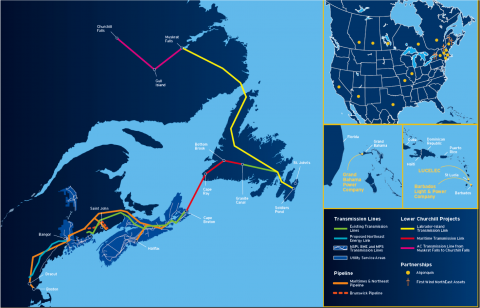 Figure 1
Source: Emera
According to Emera CNG's November 20, 2013 application to the US Department of Energy (DOE) for authorization to export CNG, the new Emera subsidiary said it envisions shipping up to 9.125 Bcf/year (or 25 MMcf/d) from a compression and loading facility Emera plans to build within the Port of Palm Beach. The primary target market is GBPC; CNG would be shipped 75 miles from southeastern Florida to Freeport, Grand Bahama, where it would be unloaded, decompressed and piped to the utility's power plants. (Other energy consumers in or near Freeport may be future buyers too.) GBPC'S 102 MW of generating capacity currently is fired by heavy fuel oil or diesel (all of it imported), but the utility wants to convert at least some of its units to gas firing, both for economic and fuel-diversity reasons. (Lower emissions would be another benefit of the switch.) Emera CNG also sees the potential for shipping gas from the Port of Palm Beach to several other customers throughout the Caribbean, including the other island utilities in which Emera holds ownership stakes. The islands within the Caribbean region each represent too small a market to attract companies interested in exporting LNG, but US-sourced CNG makes economic sense, Emera says, because of CNG's simple, relatively inexpensive loading and unloading requirements.
It's worth noting here that southeastern Florida is also the potential site of a relatively small LNG export facility planned by Goven Natural Gas Holdings. Goven in December won DOE's approval for a plan to export a total of up to 2 Bcf of LNG in specialized containers over a two-year period to five Caribbean countries: the Dominican Republic, El Salvador, Honduras, Guatemala and Nicaragua. The company has not entered into any contracts for LNG export, but wants to be able to act quickly to market opportunities as they arise. Goven is considering ports in Palm Beach, Cape Canaveral and Fort Lauderdale for its operations.
[A brief sidebar on the mechanics and economics of CNG versus LNG. The compression process for CNG increases the pressure of the gas to about 3,600 psi—from about 300 psi in gas pipelines—and does not require any refrigeration. The process for converting pipeline gas into LNG, in contrast, involves cooling gas to a liquid form at about minus 260 degrees F and keeping it cool in cryogenic containers or specialized tankers with insulated walls; gas liquefaction also removes oxygen, carbon dioxide, sulfur, and water from the natural gas, making LNG almost pure methane (plus small quantities of other hydrocarbons like ethane and propane). That gives LNG about twice the energy density of CNG. The bottom line is that CNG compression/loading and unloading/decompression facilities—and CNG-carrying ships--are much less complex and less expensive than their LNG counterparts, with the trade-off being LNG's much higher energy density and long-distance, high-volume economics. That makes CNG a more attractive alternative for smaller-volume, shorter-distance hauls like Emera CNG's Florida-to-the-Caribbean plan.]
The compression and loading facility that Emera CNG builds at the Port of Palm Beach would be directly connected to the Riviera Lateral, a pipeline spur off the Florida Gas Transmission (FGT) pipeline that Chesapeake Utilities Corp. is buying from FGT. The FGT pipeline originates in Texas, and by mid-2017 it will interconnect with the existing Gulfstream pipeline and the planned Sabal Trail pipeline at the new Central Florida Hub in Osceola County (near Orlando; the star on the Figure 2 map). Emera CNG's access to FGT—and--starting in mid-2017—FGT's connection to the new hub will give the CNG export terminal access to gas from the Gulf of Mexico, Midcontinent shale plays and (with Sabal Trail and Williams' Transco/Atlantic Sunrise project) the Marcellus. (For more about the Marcellus-Florida connection and the new gas hub near Orlando, see Miami 2017—Marcellus Gas Heading to Florida, and Mickey Mouse Gas Hub in Orlando).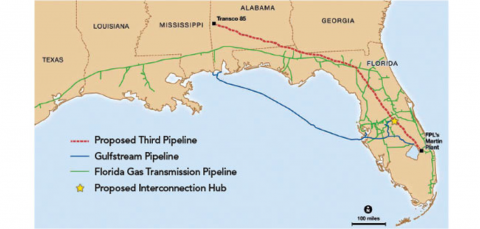 Figure 2
Source: Florida Power & Light
Emera wants expedited consideration of its CNG export application, which it sees as an "apple" that shouldn't be compared to the big sack of LNG-export-application "oranges" DOE has been reviewing (see The Molecule Laws). The volumes of US gas Emera CNG wants to compress and export represent a tiny, de minimus share of total US gas consumption (0.036%), it argues, and approval of the company's plan would have no practical impact on US gas supplies or prices. DOE, of course, has been wrangling over how many LNG export facilities to approve, given the impact all that outgoing gas might have on gas markets here at home; DOE has approved 8.5 Bcf/d in LNG exports to date (the latest being Sempra's Cameron Terminal early in February 2014), and the number of additional LNG export facilities it approves may be limited. Emera is not applying to the Federal Energy Regulatory Commission (FERC) for CNG export authority; it says FERC approval is not required. Plans are to ramp up CNG exports from the planned Port of Palm Beach compression and loading facility: 2.92 Bcf/year (8 MMcf/d, or one tank-container-filled ship a day) to start, then roughly tripling export volumes to 9.125 Bcf/year (25 MMcf/d, or three ships a day) as demand from Caribbean buyers warrants. (The 75-mile trip from Palm Beach to Freeport takes about eight hours, and loading and offloading takes two to four hours at each end, allowing for one roundtrip a day per ship.) Emera has secured commitments for firm transportation capacity on the FGT pipeline to allow for delivery to the Riviera Lateral.
The CNG export market is clearly a niche-only opportunity. CNG's real impact on US energy markets will be what later this decade is expected to be the accelerating use of CNG as a replacement for diesel fuel in trucks and buses. Large volumes of CNG also may be used as a replacement for heating oil and propane (see Fuel for the City—Replacing Northeast Oil Demand). Still, kudos to Emera for seeing—and seizing—the potential for moving cheap gas (in compressed form) to its Caribbean island electric utilities and others in the region that might benefit.
"Kokomo," recorded by The Beach Boys in the spring of 1988, was a Number 1 hit in the US, Japan and Australia, and was featured on the soundtrack for Tom Cruise's hit movie, "Cocktail." (Kokomo was a fictional place when the song was written—if you don't count the Kokomos in Indiana, Arkansas and Hawaii, that is; the name was later used for resorts in Jamaica and the Florida Keys.)