Please Come to Boston—New England Needs More Pipelines Part II
This article was originally published on RBN Energy by Housley Carr
The icy "polar vortex" that swept across the US earlier this week brought freezing cold temperatures and a record 134 Bcf/d demand for natural gas on Tuesday (Jan 7, 2014). As a result natural gas prices on that day spiked over $70/MMBtu at the TRANSCO non-New York hub. New England buyers fared better - paying "only" around $35/MMBtu for their gas - largely because of a timely supply boost from a rare import cargo of LNG at the Canaport New Brunswick terminal. But these price spikes and severe stresses on the Northeast system demonstrate one more time how the pipeline network that delivers natural gas to New England remains inadequate. Today we conclude our analysis of the region's gas pipeline situation by examining projects in the wings that together could provide the robust, reliable gas supply New England longs for.
Previously in this series we described how the hopes of Marcellus gas suppliers to move more of their product east are playing out in very different ways in metropolitan New York City and in New England (see Another Gassy Day in New York City). New pipeline capacity to deliver more gas from Pennsylvania, West Virginia and Ohio to the Big Apple and its environs already is installed and operating, easing the metro area's supply crunch and (except for polar vortex market conditions) shrinking regional price "basis". In the second episode (see Please Come to Boston—New England Needs More Pipelines – Part I)" we showed how, in contrast, New England's gas supply remains constrained by insufficient pipeline capacity. We also explained how the regional electricity market's failure to provide incentives to owners of gas-fired power plants to lock in long-term gas-pipeline capacity is hampering efforts to build needed gas-delivery infrastructure.
One thing is certain: Demand for natural gas in New England will continue rising, with the power generation sector leading the way. According to analysis prepared by ICF for the New England Independent System Operator (ISO) annual power sector gas consumption is expected to exceed 650 Bcf (up from 400 Bcf in 2012) to accommodate additional gas fired generation capacity (see Figure 1). Additional demand will also come from increased residential and domestic natural gas use.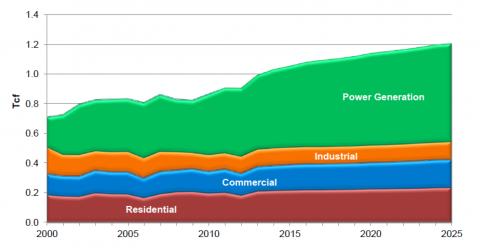 Figure 1 (Click to Enlarge)
Source: ICF International/NE-ISO
Despite the hurdles to building new pipeline capacity in New England that we discussed last time (see also Fuel for the City), two pipeline projects are well underway in the region, and are scheduled for completion by late 2016. One is Spectra Energy's Algonquin Incremental Market (AIM) project, which will add up to 342 Mdth/d of capacity to the existing Algonquin Gas Transmission (AGT) pipeline through New York, Connecticut, Rhode Island and Massachusetts. The project will involve 21.4 miles of new pipeline, six new compressor units and other upgrades. The second project is the Connecticut Expansion on Kinder Morgan's Tennessee Gas Pipeline (TGP). It will provide 72 Mdth/d of additional capacity into southwestern Massachusetts and northern Connecticut, and will involve 13 miles of new pipeline loops in the TGP 200 Line system in New York, Massachusetts and Connecticut, and the acquisition of an existing lateral pipeline.
However, while the AIM and Connecticut Expansion projects will certainly help meet New England's rising demand for gas, they will not be enough, not by a long shot. So, what else is being planned to help bring the region's gas-delivery infrastructure up to snuff, and what are the prospects for all—or at least much—of that new pipeline capacity being built? The Northeast Gas Association (NGA) provides a big-picture summary of what is on the drawing boards (see Figure 2).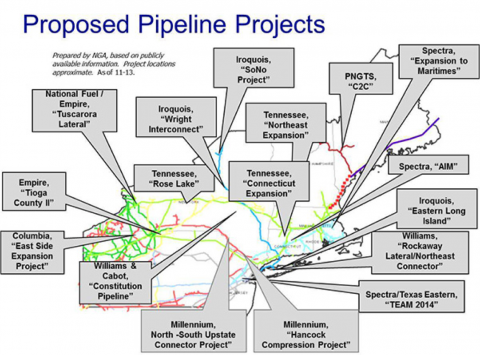 Figure 2 (Click to Enlarge)
Source: Northeast Gas Association
Not all of these projects directly affect gas supply into New England; some are aimed at generally expanding the ability of the Marcellus-area pipeline network to export gas from the shale play, and some are tied to further boosting gas delivery to New Jersey and New York City. Many of these projects, however, would either increase the volume of gas that can be moved from the Marcellus to New England's western border, or allow more gas to be moved within New England itself.
Let's start by looking at the TGP (Kinder Morgan) proposed "Northeast Expansion", a new, 150-mile pipeline from Wright, NY (along the TGP, north of Albany) to Dracut, MA (north of Boston) that could move as much as 1.2 Bcf/d of Marcellus-sourced gas into the heart of New England (see Figure 3). If Kinder Morgan secures firm shipper commitments then this project could be in service by late 2017.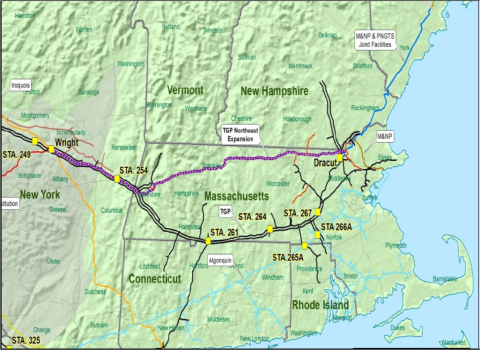 Figure 3 (Click to Enlarge)
Source: Kinder Morgan
And there are two other major projects proposed within New England itself. One is Portland Natural Gas Transmission System's (PNGTS) planned Continent-to-Coast (or C2C) expansion project, which would increase to as much as 300 Mdth/d (from the current 168 Mdth/dy) the capacity of its system between Pittsburg, NH (at the Quebec border, where PNGTS interconnects with TransCanada Pipelines) and Westbrook, ME. Westbrook is where PNGTS meets the Maritimes & Northeast Pipeline (MNP); from there, PNGTS continues south to Dracut, in northeastern Massachusetts (see Figure 4; the blue arrows show the areas that could be affected by the C2C expansion). PNGTS on December 3 2013 started a new open season for the C2C expansion to determine the level of interest in the incremental capacity (the open season closes January 24); the pipeline company hopes to secure commitments and approvals for the project and complete it by late 2016. [Note PNGTS is a subsidiary of New England Energy Corporation (NNEEC), based in Vermont. NNEEC is itself a subsidiary of Gaz Métro, NNEEC is also the parent company of Green Mountain Power and Vermont Gas Systems.)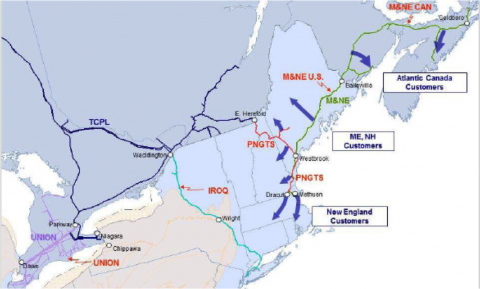 Figure 4 (Click to Enlarge)
Source: Portland Natural Gas Transmission System
The other major project within New England is Spectra Energy's proposed "Expansion to the Maritimes". The plan, in an early stage of development, would build on Spectra's existing AGT (and its AIM expansion project) by delivering gas to northern New England and Canada's Maritime provinces. Not much has been said about the project so far. The earliest completion date for the plan would be 2017.
Also pertinent to New England's future gas supply are three pipeline projects under development in upstate New York that would increase the volumes of Marcellus gas that can be moved close to the western boundary of the six-State region. Of these, the two most noteworthy are the Constitution Pipeline and the Wright Interconnection Project (WIP). The 124-mile, 650 Mdkh/d Constitution Pipeline, which is being developed by a joint venture of Piedmont Natural Gas, Williams Partners and Cabot Oil & Gas, will run from Susquehanna County, PA to Schoharie County, NY (see The Constitution Amendment). There, WIP, which is planned by Iroquois Gas Transmission (IGT), will link the Constitution Pipeline to the existing IGT and TGP systems at Wright, NY. (As we explained earlier, Kinder Morgan's proposed Northeast Expansion would run from Wright to Boston.) Both the Constitution Pipeline and WIP are slated to be completed in 2015. The third upstate New York pipeline project is the west-to-east extension of Millennium Pipeline. That would be a north-south gas pipeline between Binghamton and Cortland, NY, where the new pipeline would interconnect with the Dominion system. Millennium, which is owned by National Grid, NiSource and DTE Energy, originally had been considering a longer north-south project that would extend beyond Cortland to the TGP in Syracuse, but it recently shelved plans for the Cortland-to-Syracuse section due to a lack of shipper interest. By boosting the capacity of pipeline networks between the Marcellus and upstate New York these three projects will provide a welcome robustness to future supply capacity from the Marcellus into New England.
However, without vital support from the owners of gas fired generation (in the form of commitments to firm capacity) the critical projects that will deliver gas within New England - TGP's Northeast Expansion, PNGT's C2C, and Spectra's Expansion to the Maritimes – still look unlikely to get built. Only when New England power generators and the independent system operator (ISO) resolve their differences over the structure of the capacity market (including any incentives to actually hold firm pipeline space) can New England confidently expect development of a pipeline network able to meet virtually all its needs. When that finally happens, New England buyers can look forward to the more stable gas prices that New York began to enjoy this Winter – until mother nature threw in her own game-changer last week – but lets hope that was a rare event.