Sail Away – Propane Exports Exceed 400 Mb/d for the First Time
This article was originally published on RBN Energy by Kelly Van Hull
We've been talking a lot over the past year about the need for increasing exports to balance the U.S propane market as growth in production from gas processing plants outruns domestic demand. U.S. propane production from gas processing has increased by over 100 Mb/d since January 2013, and there's lots more to come. For the first time U.S. propane exports exceeded 400 Mb/d in October 2013 thanks to growing U.S supply and infrastructure developments including dock expansions by Enterprise and Targa. But just after exports ramped up, the propane market was hit by a couple of wild cards – a late and very heavy crop drying season and a series of record cold temperature events. In today's blog, we continue our series covering the record setting 2014 NGL markets.
Before we jump into the export analysis let's first spend a minute looking at the U.S propane market. Figure #1 below depicts the rapid growth in U.S. propane production from gas processing plants that occurred from January 2013 to October 2013, the latest reported data by the U.S. Energy Information Administration (EIA).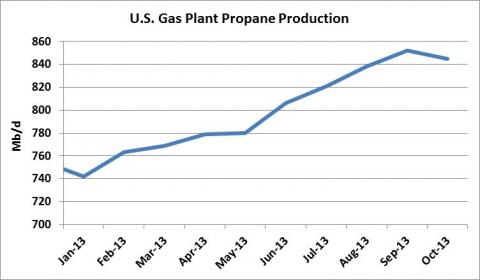 Figure #1 Source: EIA
This is huge growth in a very short time. For further discussion on U.S. NGLs production growth from gas processing seeToo Wrong For Too Long – The NGL Surge We Didn't Expect and Big Surge Comes to Whoville – Northeast NGLs to Increase Six Fold. Keep in mind while reading both of these blogs that RBN's forecast of NGL production has increased again since both were written. The numbers keep getting bigger.
Propane is also produced at refineries, averaging 276 Mb/d in 2012 and about 280 Mb/d in 2013 (EIA numbers). That is not much of a change, and refinery production of propane is expected to remain relatively flat. So it is production from gas processing that will be driving the growth in exports and hence what we will be concentrating on in this blog series.
A few general notes on domestic demand before moving on to exports. If you have been following either the RBN blogosphere, the propane market or both you have heard a tremendous amount about the seasonality of propane demand over the past several months. In general propane demand increases in the fall and winter due to crop drying and colder temperatures, but this year Midwest propane suppliers were hit particularly hard by a late and heavy crop drying season followed directly by much colder temperatures. For an in-depth look at these demand anomalies and the impact on domestic markets see A Perfect Storm – Polar Vortex Turns Propane and other NGL Markets Upside Down. For more on propane demand and crop drying see Farmer Dries Corn and I Do Care; Propane Corn Drying, Shortages and the Cochin Reversal – Part 2 . While seasonality in propane demand is normal, this winter has been anything but normal. The 2013 crop drying season and the 2013-14 Polar Vortex weather pattern are both extremes.
And now on to today's topic, propane exports and the interplay with domestic demand. As noted above, in October 2013, U.S. propane exports exceeded 400 Mb/d for the first time in history. In addition to the increasing supply and resulting market length discussed above, infrastructure developments also played a key role in propane exports reaching this level. In March 2013 Enterprise expanded its Gulf Coast export facility and in September Targa expanded its terminal with volumes cranking up in October. Both of these expansions are evident in Figure #2 below.
Export data from January 2012 to October 2013 are from EIA. That is the most recent data EIA has available. Fortunately our friends at IHS Waterborne Energy track exports on a ship-by-ship basis and have provided November 2013, December 2013 and January 2014 data so we can see what has been happening lately. And that recent data indicates that exports have declined only slightly below 400 Mb/d. We discussed several factors that have kept exports at record levels in A Perfect Storm.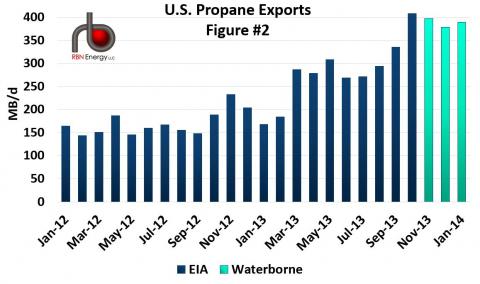 Source: EIA and IHS Waterborne Energy
We'll get to the possible effect these exports may have had on prices in a moment, but first let's look further out in the future in terms of what is expected in terms of exports. While the increases in exports we've seen in recent months are significant they are just a glimpse of what is to come.
For a broader perspective on propane and butane exports through 2018 see Figure #3 below. This is RBN's forecast of LPG (propane and butane) exports, shown along with planned increases in LPG export terminal capacity from Enterprise, Targa and others (Note: propane and butane share LPG dock capacity). By 2018, 800 Mb/d of propane and butane are forecast to be exported from the U.S, with the majority of that (over 500 Mb/d) being propane. As you can see from Figure #3, the terminal expansions completed by Enterprise and Targa during 2013 are also only the beginning; Phillips 66, Energy Transfer, Williams/Boardwalk and Occidental have all proposed export facilities along with further expansions proposed by Enterprise and Targa. If all or even most of these projects come to fruition, export dock capacity will not be a constraint to propane exports, or butane either for that matter.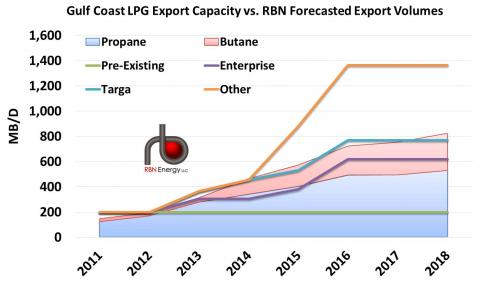 Figure # 3 – Source: RBN
So what's driving the increase in propane exports? As a result of the growth in U.S. propane production over the past several years, and insufficient incremental domestic demand to soak up that supply, domestic prices fell dramatically (of course, up until the Polar Vortex hit). At the low points, Mont Belvieu propane fell to just over 70 c/gal during the summer of 2012 and again in Dec 2012, a year with particularly low propane demand due to a warm winter, high petrochemical outages in the spring and growing propane stocks.
Figure # 4 below shows the falling propane prices during 2012 in Mont Belvieu, Conway, Sarnia and Edmonton; also known as the pre-export terminal expansions period (left of the blue bar). The chart also demonstrates the seasonality of domestic propane demand and the interrelationships between the U.S. and Canadian propane markets. While it may seem that we are getting a little off topic here, bear with us for a minute while we connect this discussion to exports. During 2012, to the left of the vertical blue bar, you can see the historical relationship of these markets; Edmonton tracks Conway at a discount, Conway tracked Mont Belvieu at a discount, and Sarnia tracked Edmonton at a premium due to the distance between Canadian supply (Western Canada) and significant Canadian demand (Eastern Canada).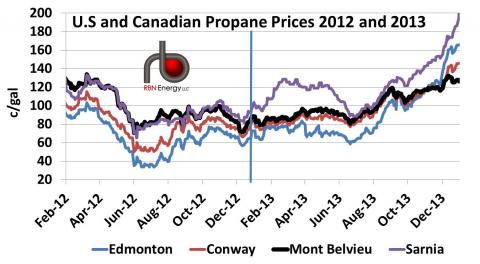 Figure #4 – Source: OPIS
Now notice what changed in late 2012 and 2013 (to the right of the vertical blue bar). Pipeline expansions, including Arbuckle, came online between Conway and Mont Belvieu eliminating the transportation bottleneck between those two markets, bringing the prices together. Now look further out in 2013 to the September/October time frame. It is getting colder in Canada and the Midwest crop drying season is kicking in, and as a result prices in Conway and Canada are increasing faster than prices in Mont Belvieu. By mid-November the price of Conway propane goes above Mont Belvieu propane, due to heavy crop drying demand, colder temps, and a tightening market. Interestingly, despite exporting 400 Mb/d of propane in October and close to that in November, Mont Belvieu propane doesn't go above $1.20/gal until early December 2013, a clear indication of growing market supplies.
One final point regarding Figure #4 before moving on. Sarnia propane was trading at nearly 80 c/gal above Mont Belvieu at the end of 2013, and while this differential and the Conway and Edmonton differentials to Mt. Belvieu are likely to come back down once stocks rebuild after supplies recover from the crop drying/Polar Vortex anomalies, Sarnia should continue to trade above Mont Belvieu as it has for most of 2013 except for the low demand summer months. If you are a propane producer in the Marcellus or Utica you might think about exporting some of your propane north to Canadian markets as length in the Northeast propane market grows over the coming years.
Before getting to Polar Vortex weather patterns and what has happened in January 2014, let's look at the significant arbitrage opportunities that falling domestic propane prices created during 2012 incenting U.S. propane to move to overseas markets. Figure #5 below shows the differential between Mont Belvieu propane and the propane price in Europe. The price differential peaked during Dec 2012 at just over $1.15/gal when Mont Belvieu propane was trading at 72 c/gal. Since that time, differentials fell significantly during 2013 as Mont Belvieu propane prices rose. From Jan 2013 to Dec 2013 Mont Belvieu propane increased from 79 c/gal to just over 130 c/gal as seasonal U.S. demand and increasing exports have been pulling prices up mostly during the 3rd and 4th quarter of the year.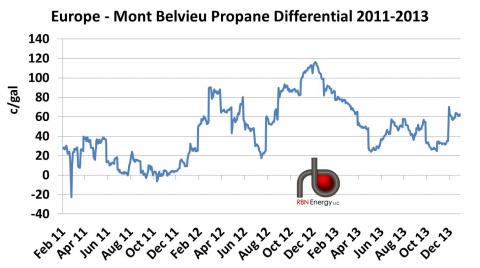 Figure #5 – Source: OPIS (Click to Enlarge)
And now to the topic you've been waiting for; Polar Vortex weather patterns and the interplay between domestic propane demand and exports. Figure #6 below shows U.S and Canadian prices from December 2013 through January 27, 2014. The significant things to notice in this chart are the extreme price spikes that occurred in both Conway and Edmonton, both hubs that feed the Midwest propane market, relative to the price escalation over the period at Mont Belvieu and in Sarnia. These price spikes are indicative of an extreme regional shortage. They are also a reminder that while markets balance over time, there can be a big lag due to geographical separation, flow patterns and in this case the lack of the ability to predict demand anomalies, like an extremely heavy crop drying season followed by a series of cold waves driven by Polar Vortex weather patterns.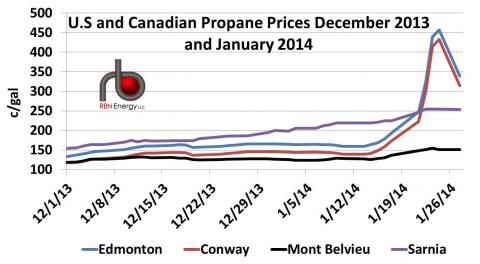 Figure #6 - Source: OPIS (Click to Enlarge)
Also noteworthy in Figure #6 is that the price of Mt. Belvieu propane is hovering just over $1.50/gal currently and Conway and Edmonton are both falling sharply, an indicator that those markets are starting to recover, at least for now. Why is the $1.50/gal price at Mont Belvieu significant? As the price of Mont Belvieu propane went from $1.30/gal on January 16 to $1.50/gal on January 21, the arbitrage opportunities to ship Gulf Coast propane to Europe fell below the cost of terminaling fees and freight to get it there and according to the OPIS LPG Report this prompted seaborne cargo lifters to cancel one or more February cargoes. We'll be watching carefully to see how many are eventually cancelled. See Figure #7 below for the falling Gulf Coast to Europe arb.
Figure #7 – Source: OPIS (Click to Enlarge)
One more thought on market differentials. Clearly the huge price spread between Mont Belvieu up to Conway over the past few days is far beyond plenty to incent Mont Belvieu propane to move to the Midcontinent. We hear tales of fleets of propane trucks from Texas fanning out across the Midwest and even as far away as the Northeast. In addition to trucks, there are a few long haul NGL pipelines that are designed to move barrels both south and north, and these are presumably doing what is possible to alleviate the shortage.
But it is not only the differentials at work here. This industry is about people and relationships. The propane industry and the larger NGL community have rallied around this crisis, and are doing everything possible to help out all of the propane consumers dealing with shortages and high prices. We believe all those involved in getting the product to market during these tough times deserve a round of applause from all of us on the outside of this market, looking in as they work long, hard hours to minimize the problems from the fallout of a historically difficult propane season.
That's it for Sail Away – Propane Exports Exceed 400 Mb/d for the First Time. Stay tuned for the next blog in this NGL series where we will take a look at historical international destination markets for U.S. propane, how flow patterns are changing, and the impact of increasing freight rates and falling price differentials on future U.S propane exports.