Who Stopped the Rain—Natural Gas Gaining Market Share in Hydro-rich Northwest
This article was originally published on RBN Energy by Housley Carr.
Blessed with vast amounts of hydroelectric capacity, the Pacific Northwest has traditionally only turned to natural gas as a supplemental source of power. Sure, gas use for power generation ramps up during drier months of the year, and rises significantly in "dry" years like 2010 when lower-than-normal wintertime precipitation reduced river flows and hydro plant output in late spring and early summer. This year is shaping up as another dry one, but other factors are boosting gas demand in the region. New gas-fired plants are being built to replace retiring coal units and to keep pace with load growth and the prospect of relatively low-cost gas for the foreseeable future is encouraging gas-based industrial growth in the region. Today we look at what's driving gas demand in the Pacific Northwest and how the region's pipeline infrastructure is being expanded.
In Part 1 of our series, we provided an overview of the Pacific Northwest's incredible hydro infrastructure, especially the series of hydro dams along the Columbia and Snake rivers that together can generate as much electricity as 20 nuclear plants. We also talked about how natural gas has always played second fiddle to hydro in the region, but that rising demand for electricity and plans to retire the last remaining coal-fired units is giving gas a higher profile. Depending on how successful the Pacific Northwest is at increasing the energy efficiency of its homes and businesses, several thousand MW of new gas-fired generating capacity may need to be added in the region over the next few years. A need that would only grow if a threat to remove one or more hydro plants for environmental reasons is carried out.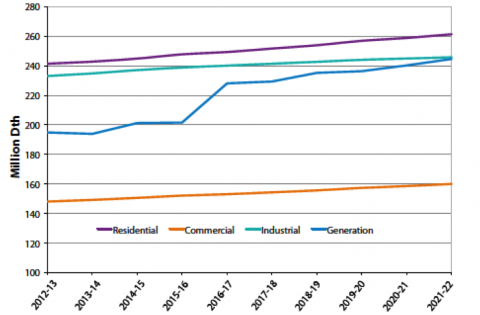 Figure 1
Source: Northwest Gas Association
While the power sector is the big driver in rising gas consumption in the region (see the forecast from the Northwest Gas Association in Figure 1) it's not the only new source of demand. Residential (purple line) and commercial (yellow line) demand for gas is also forecast to increase, thanks to population growth and the expectation that gas prices will stay low. Industrial demand (aqua line) for gas is forecast to increase too—again because of low gas prices. And these increases do not even include at least two LNG export facilities being considered along the Oregon coast (by Oregon LNG at Warrenton and Jordan Cove at Coos Bay) which would require up to 2.1 Bcf/d between them. Meeting all of these new demands will likely require new pipeline capacity into the Pacific Northwest from western Canada, and within the region itself, and several major pipeline projects are under development.
The Pacific Northwest currently gets about 60% of its gas from conventional and unconventional sources in Alberta and British Columbia, and almost all of the rest from the Rockies. Taken together, gas pipelines and gas storage facilities are capable of delivering more than 6.5 billion cubic feet/day (Bcf/d) to customers within the region (see Figure 2 for a map of the infrastructure). The biggest recent addition to the gas pipeline network was the 673-mile Ruby Pipeline from the Opal gas hub in Wyoming to the Malin hub in southern Oregon; Ruby, which is co-owned by Kinder Morgan and Global Infrastructure Partners and became operational in July 2011, can move up to 1.5 Bcf/d.
Figure 2
Source: Northwest Gas Association
Anticipating the need to move still more gas into and through the Pacific Northwest, Williams Cos., Oregon LNG, NW Natural and others are planning pipeline and gas storage projects. Here's a sample of what's on the drawing board:
Washington Expansion Project—The project, planned by Williams Cos. to help meet the needs of the Oregon LNG export project, wouldadd 140 miles of 36-inch-diameter pipe in a total of 10 loops along Williams' existing Northwest Pipeline between Sumas, Washington (at the state's border with British Columbia) and Woodland, Washington (see Figure 3). The Northwest Pipeline already can deliver 500 Mdth/d on a secondary basis from Sumas to Woodland after meeting other firm customer commitments. The Washington Expansion Project wouldboost that ability by another 750 Mdth/d, and thereby provide Oregon LNG with 1.25 MMdth/d of firm capacity to Oregon LNG's proposed Oregon Pipeline. The 86-mile Oregon Pipeline would run from Woodland to Oregon LNG's planned export facility in Warrenton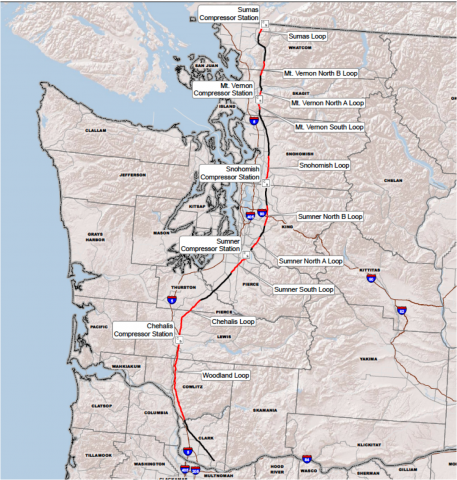 Figure 3
Source: Williams Cos
Pacific Connector—This 232-mile, 36-inch-diameter pipeline, planned by a joint venture of Williams and Veresen Inc., would move up to 1 Bcf/d from the Malin hub in southern Oregon to the planned Jordan Cove LNG export facility in Coos Bay. Malin receives gas both from the Rockies via the Ruby Pipeline and from western Canada via TransCanada's 2.2 Bcf/d Gas Transmission Northwest Pipeline. Along its route, the Pacific Connector also would interconnect with Williams' existing Grants Pass Lateral Pipeline, which runs north-south through Oregon's Willamette Valley, thereby giving Eugene, Salem and other communities along Grants Pass a second source of supply. The Pacific Connector project would cost $1.7 billion, construction would begin in 2015, and gas would start flowing through the pipeline as soon as late 2017.
Mist Storage Expansion—NW Natural, a large local distribution company, is planning another expansion at its 16 Bcf underground gas storage facility in Mist, Oregon, about 60 miles northwest of Portland. Mist is the state's only active gas production area; the spent underground reservoirs there over time have been converted into gas storage space that helps NW Natural meet peak, wintertime demand for gas. Puget Sound Energy, an electric and gas utility in the Seattle region, has indicated it may commit to some of the new storage capacity to be developed, largely to help ensure the availability of gas for gas-fired plants.
Cross-Cascades Pipeline—NW Natural said in its 2013 integrated resource plan that it hopes to serve as a "catalyst" for the development of a cross-Cascades pipeline project similar to the 217-mile Palomar pipeline project that a joint venture of NW Natural and TransCanada Corp. planned to build between central Oregon and coastal Astoria but later scrapped. NW Natural said it could commit to taking 165 Mdth/d—or 35% to 40%--of the pipeline's capacity, but the project's future depends on whether others would be willing to subscribe to the balance of what the pipeline would carry.
With capped or even declining hydro capacity, a scheduled ramp-down in coal-fired generation, and plans for LNG export facilities, the Pacific Northwest is likely to experience a continuing increase in demand for gas from western Canada and the Rockies. The pace of gas demand growth depends on several factors, including how much and how quickly new gas-fired capacity is built, and whether the two LNG export facilities planned for the region become a reality. Also to be determined is which of the several gas pipeline and storage projects being considered move to the fore. California, whose gas and electric system is closely linked with the Pacific Northwest's, faces similar uncertainties, starting with the degree to which the state's historic drought (which persists, despite the heavy rain and flooding on February 28) will undermine its hydro output—and put stress on its gas pipelines and gas-fired power plants—this spring and summer. We will explore California's challenges, and what they mean for gas markets, in our next episode.